The fact that there is not much long distance between the cities of Cyprus, this makes every corner of Cyprus easy to visit. Especially if you come to Famagusta, Trikomo-Karpas region should be among the first places you should go. The Trikomo region, which is 20 minutes away from Famagusta, is known as the most beautiful coastline of Cyprus.
It definitely attracts attention with its beaches that must be seen by everyone, the coastal walking path is a magnificent view and has many historical structures. You should proceed to Karpas area while you are up to Trikomo.
Until you come to Karpas, you should definitely stop at the Bosphorus Port on the road and take a lunch break. While enjoying the view of the harbour view, you can spend time in the most pleasant restaurants located there. Before continuing towards Karpas, you must go through the Bosphorus Village on the opposite side of the Bosphorus Port and go to Kantara Castle.
After climbing the castle, you will be dazzled by the view you will see. The view from the top of Kantara Castle will take your breath away, the view almost puts the whole island under your feet. You should continue on your way and move to the Karpas region, where you will be surrounded by nature, where silence and peace will take your soul. You can feed the Karpaz Donkeys with their favourite vegetables which are cucumbers and lettuce, which are frequently found in the region. After your meal with donkeys, you should turn your route to Karpaz Gate Marina and have a coffee break. Harbour view is one of the most beautiful parts of the island. You should not skip taking a short walk after sipping your coffee.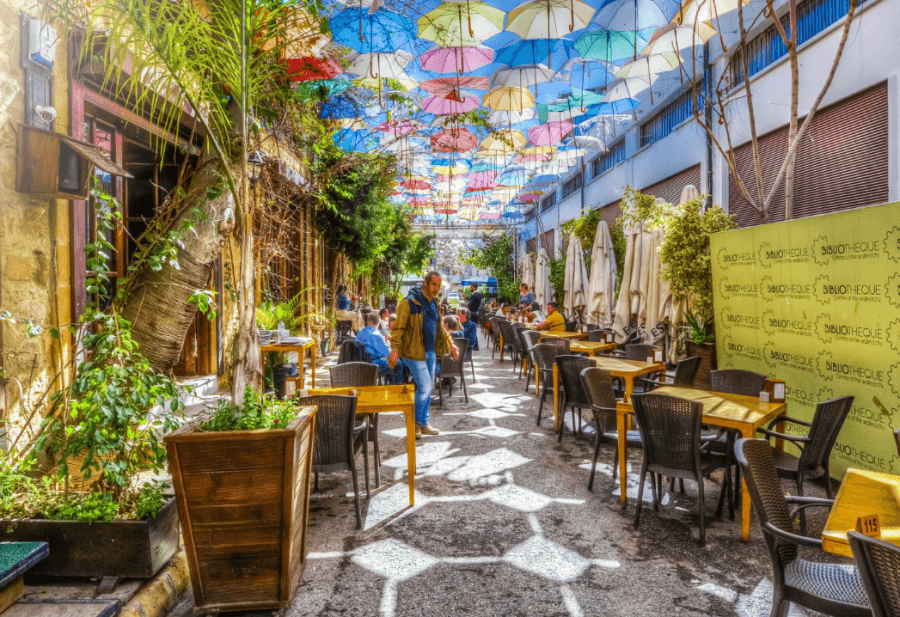 You should definitely spare a free day for a trip to Nicosia-Kyrenia. When you go to Nicosia, which is 60 minutes away from Famagusta, you should definitely start your trip with Surlariçi. A very unique architecture with street cafes reflecting the culture of Cyprus will give you a short trip between years ago and today.
The graffiti on the streets is perfect for decorating your photo frames. You should definitely stop by Büyük Han, the most famous place in Nicosia, after your city walls tour. Büyük Han, which smells of Cyprus History, will draw you into Cyprus Culture. It is a place where you can return to Cyprus in 1940s and understand both the history and culture of Cyprus, and it is a place that can add you to its magic.
You can easily find the dishes and desserts specific to Cyprus in Buyuk Han. After completing your trip to Nicosia, you should set off for Kyrenia, which is 20 minutes away from Nicosia. On the main road you should stop at Hilarion Castle and watch the view of almost the whole island and enjoy the fresh air. Afterwards, you can stop by Girne Yacht Harbor and have a pleasant time in the cafes and restaurants located by the harbor.
Kyrenia Castle, which is 1 minute walk from the harbor, is worth seeing. In particular, the Sunken Ship in the castle has hosted many guests for years. The fact that Kyrenia Bazaar is 5 minutes walking distance from Kyrenia Castle provides a great advantage for those who love shopping. You can go to Trikomo, Karpas, Nicosia and Kyrenia by bus or if you want to spend time according to your own schedule, you can rent a car daily and enjoy the island.