Courtyard Long Beach Holiday Resort Hotel
Courtyard Long Beach is located in Pier, one of the most popular areas of the island, within walking distance to the most beautiful legendary Cyprus beaches. Combining the seaside life with its own facilities, Courtyard offers a five-star life to its homeowners and vacationers.
Courtyard was built by Döveç Construction, one of the leading construction companies in Northern Cyprus, in the Long Beach area of ​​Iskele with the vision of becoming the new holiday capital of the island. Iskele Municipality's investments in the beach, children's playgrounds, walking paths, bicycle tracks and all beach facilities on the 2 km beach have made the region a center of attraction.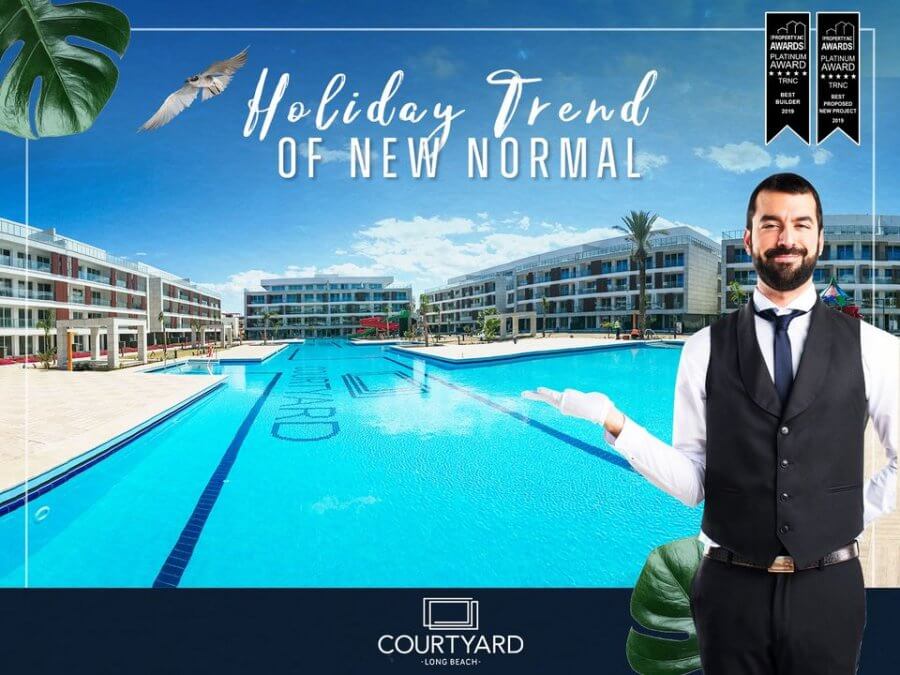 Walking Distance to the Sea
In Courtyard Long Beach, which is 600 meters from the sea its landscape, pool, restaurant, playgrounds and other outdoor activities stands out as the theme of the project. In the 500-meter perimeter between the blocks, space has been created for bicycles and walking paths in addition to the electric vehicle charging station and parking lot.
The architectural design of Courtyard Long Beach has deliberate openings designed as passageways under the buildings to bring cool summer winds from the sea direction into the Courtyard to provide microclimate conditions. All apartments, ranging from studios to three bedrooms, have large balconies of 8-20 m2 overlooking the courtyard. In order to customize the gardens of the apartments on the ground floor and to give a sense of isolation, a special area is provided.
Many Social Activity Areas
On the ground floor of the North Block, where the Courtyard Long Beach Holiday Resort reception is located, there is a gym, indoor heated pool, game room, spa, sauna, Turkish bath, massage rooms, beauty center and other facilities. In addition to the hotel rooms, there are also options from various apartment types reserved for rental services within the project, and Courtyard signifies a pleasant holiday vacation with family.
Delicious Restaurant, which operates in the northwest corner of the Courtyard, serves both the sun loungers by the pool and the outdoor and indoor dining tables are spread over a wide area. The food menu is prepared with special selections from all over the world and there are cocktail recipes that will refresh you in the heat of Cyprus. Courtyard Delicious also provides room service to all apartments within the facility.
Proprietary Quality
Döveç Construction was selected as the Best Construction Company in 2019 by the Property Awards, which awards the best of Northern Cyprus with its international recognition and competent jury committee, and at the same ceremony, Courtyard Long Beach was titled worthy of the Best New Project Award.